XM 1/4 Green Goblin Ver B (XM Exclusive) - Pre Order (shipping cost charge later)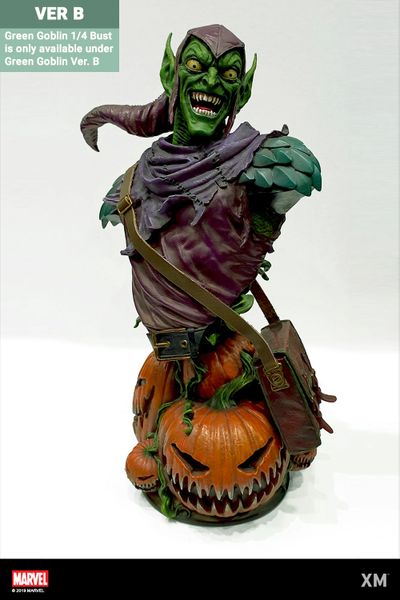 XM 1/4 Green Goblin Ver B (XM Exclusive) - Pre Order (shipping cost charge later)
The Green Goblin Ver. A Premium Collectibles statue features:
Showcasing Green Goblin on his Goblin Glider, unhinged and undeterred, fuelled by his insanity to wreak havoc.

Two (2) Headsculpt - 1 featuring goblin mask, 1 of Norman Osborn sans mask.

Two (2) Interchangeable left arms: 1 with out-stretched arm, 1 clutching his goblin mask

Two (2) Interchangeable right hands: 1 holding his iconic pumpkin bomb, 1 with his fists clenched.

Crafted from cold-cast porcelain 

Each painstakingly handcrafted statue is individually hand-painted with the highest possible quality finish.

Limited edition : MTO
 
Artists:
Kucharek Brothers

Carlos Dattoli (Art Print)

XM Studios Design and Development Team

Manufactured by: 
XM Studios
Note: Prototype shown and pending final approval, final product may differ. Batteries will not be included for products with light up features due to customs.
Product size : 41 cm  L X 55 cm B X 69 cm H
Est. Box Size : 76 cm L X 65 cm B X 39.5 cm H
Est. Product Weight : 12 Kg
Est. shipping weight : 26 Kg
Include 1/4 Geern Goblin Bust.
Shipping cost will be charge later once the item in stock. 
Reviews